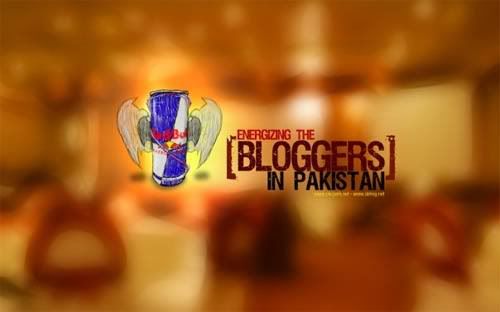 With this post going up, I came to a realization that I've been putting up alot of energy in lots of things, keeping me fresh and popping with ideas, which obviously is a good thing, I always thought distration is a bad thing, but somehow I think it's good to be distracted from time to time, to keep one self fresh.
Also aot has been happening lately, I put up the above image titled 'Redbull – Energizing bloggers in Pakistan', the reason I did that was because all the recent bloggers meet up have had free distribution of Redbull, thus keeping up active throughout the event, I thought we as bloggers should thank them some how, thus the image.
As that image was uploaded to deviantart and facebook, I thought would receive some comments on why bloggers are being associated with Redbull, turned out all the feedback I got was mostly positive, check out the facebook link and you'll know.
Also since I m writing, I want to reach out to talented designers with knowledge and experience in XHTML, CSS, (PHP and Flash is a plus point).
Also I put up two new artworks, you might as well check those out.