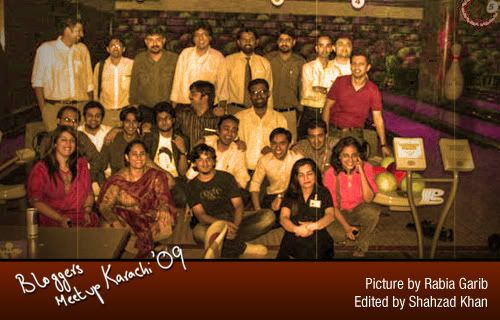 6th March 2009, the day active bloggers in Karachi met again to discuss various issues affecting our nation online and offline, organized by Google Pakistan, CIO Pakistan and Wateen Telecom, turned out to be quite some resolutions and suggestions, thoughts and valuable brainstorming.
I reached the venue a little late, since I was coming straight from work, and particularly because the taxi driver took the longer route for some reason. *Curses the evil taxi wala 😛 * Any how as I reached that place I discovered most of the people were already there, I recoginized some faces instantly (Ali K. Chisti, Awab Alvi, Batool, Jehan Ara, Rabia, Badar, Salaina). It was a little surprize that most people know me, I m not much of a proper blog, I mostly write crapy stuff, but anyways..
I was delighted at the fact that this meet up was to discus activism issues, my blog isn't about activism but what I do like about the idea of activism is that it gives people what's rightfully theirs and they get their voices heard.
After my arrival, soon Imran Hussain and Umair K. Jadoon were there too,  it was the first time I met them properly, the first time I met them was at the First bloggers meet up, but I didn't get time to get to know them properly, until obviously we had a great online blogger meet up. Great ppl.
The topic that we discussed was about how to get a better image back to Pakistan, since we're getting all the negative publicity recently, be it the government or the militants, it's just not good, so we thoughts it's time for all the nerds to take the situation into their hands 😛 (j/k)
We discussed matters of importance, being it sponsoring bloggers from the outside world or setting up proper resolutions and following them, the sponsoring bloggers idea was brought int light by Badar Khushnood, while Salaina suggested that she could draft a national PR policy. Farhan was of the opinion that we could all put up Pakistan's flag on our blogs to reflect our love for the country (I came up with that graphic, that I allow anyone to freely use on their blog, but please host it on your own).  I suggested that bring out the positive image, snap along the way and upload the beauties of the country, be it people, places, events or anything on the positive side.
After our discussions and all, we moved to the Bowling area, where some awesome refreshments awaited us..it wa already time my tummy felt the need to get a top up 😛
So we had out tiny snacks, some coffee and then.. yes right then we bowled our heads off.. didn't make for some good score but had fun.. I had Awab Alvi, Badar and Rabia as my competetors.. It had to be nice 😛 and surely it was.
The picture right at the begining was a snap shot that was taken while lights went out for a bit. Thanks to Rabia for the picture.
Related:
Blogap – Bloggers Association of Pakistan
'Karachi Blogger's Meet up' [Highlights]