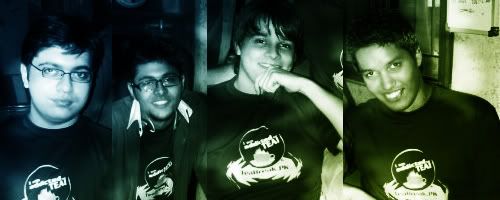 I wish I was much better that day.. oh yesterday I mean…
I was supposed to be there early, and sadly I turned out to be the one who entered last from the whole team.. 🙁
Why you may ask.. damn I wasn't well, vomiting all around, with my face stuck deep inside the commode ! ok, not that deep inside 😛
Any how, when I reached Copper Kettle II, where the event had been organized the folks had already started, since alot of people had already come, and they couldn't wait for me.. sob sob 😛 When I had arrived, the debate and the topic of focus were the blogging ethics, which honestly very few people follow, right now only a handful of bloggers practice such thing, the others just scribble what ever pleases them, which may work fine for them, but for others it might be something offending.
Since everyone was right there during this time, and we expected no more people, we though it would be best if all the bloggers could introduce themselves,and tell about what they write about on their blogs and what would they love to see happening on the blogosphere in Pakistan, this I believe was a nice thing to do… I said very little though.. I was sick remember 😛
Everyone was asked to grab some food, you know everyone gets hungry 😛 so food it was, and for me, just a drink and an ice cream.. couldn't take anything heavy, and didn't feel like eating anything either, I'm still on soup. damn !
We all sat down again, talked about things we do other than blogging, about our work and businesses, about technology, music, anything that would fancy either one. For me, this was the only thing I talked about, I wasn't myself yesterday, due to the face, again, that I wasn't feeling well..
I hope to write more about the event, gotta get my soup now.